Ocún
Show It and Say Why It Is So Great
The story of Ocún, the Czech climbing equipment producer, is similar to stories of many other companies. They have premium product but only a handful of their business partners and dedicated customers are aware of it.
We met Ocún for the first time when it was preparing a merge of its two brands. At that time, its climbing shoes bore the brand name Rock Pillars, whereas the other climbing equipment was branded as Ocún. The new brand already had a new logo prepared. However, they needed to solve several things: i) communicate the brand merge to the market and explain its reasons, ii) define the future form of presentation of the new brand and its products. Yes, and a small detail: they needed to make it all happen.
Mapování situace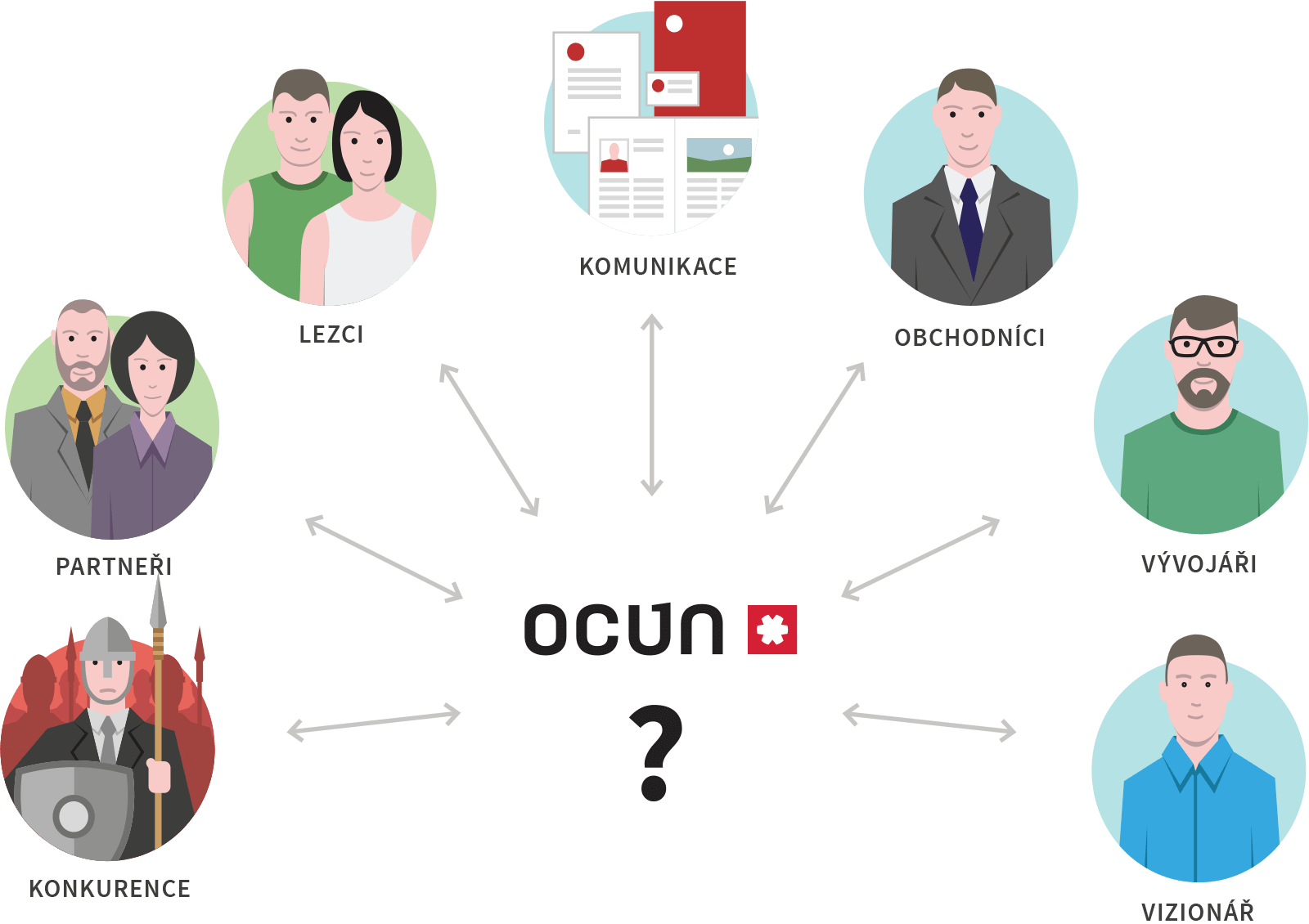 To get an overview of the situation we started with several simple activities. First was a workshop with the owner and key marketers (and with considerable help of Marty Neumeier's Brand Compass). We consulted with product developers. We did an inquiry in shops that sell the products. We researched into performance climber's perceptions of the products. We analysed communication of Ocún's competitors. The purpose was not in collecting "hard data". Instead, we tried to find – in the most effective way – information and inputs for our next steps…
Jste to, co říkají ONI
First result (or hypothesis confirmation, to be more precise) was that in customer's minds the brand is felt as a favourable-price alternative to "big brands". A common complement to vendors' portfolios. It turned out that the brands merge will not be perceived as a milestone by the market. Rather, both Czech and German market were curious about innovations the new brand will offer. The message was clear: the merge is not threatening and the possibility to develop only one brand will be a great relief for the company.  Later this was confirmed since the climbing shoes under new brand maintained its sales figures in all regions.

Another finding was interesting as well: Ocún / Rock Pillars is an innovator but the market does not recognize it as such. Many innovative features of various climbing equipment, that are now common, have their origin in ideas and never ending improvements of Ocún's owner Pavel Hendrych and his team. These ideas and innovations were step by step incorporated by their competitors. The company holds many patents and its products achieve the highest technological qualities. Yet, its communication either does not say it, or says it incomprehensively. Except several devotees, nobody knows about the qualities. Recreational climbers who represent the majority of Ocún's customers, need to realize why they like the brand by their personal experience. But the company's communication does not help them much in that.
If perception of the company and its products should change, this is the first thing to focus on.
Značka se dělá děláním
The first important event the new brand was to be introduced was no smaller than the most important climbing trade fair "Outdoor" in Friedrichshafen, Germany. The main communication platform for this fair is the so called "workbook", an introduction of the company and its products for vendors and business partners.
OCÚN Workbook
Compared to the previous years we recommended changing the publication structurally. First, a new part was placed at the beginning which introduced new Ocún, including the essence of the brand, cartoon-like story of the brand, information about the merge and future visions.
Second, we changed the way products were presented, having in mind the need to communicate clearly what you cannot see at first glance.
1. part: presentation of Ocún brand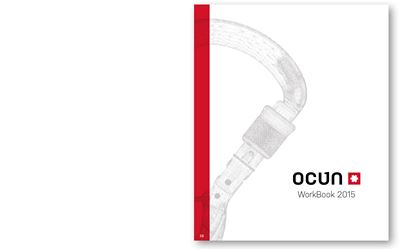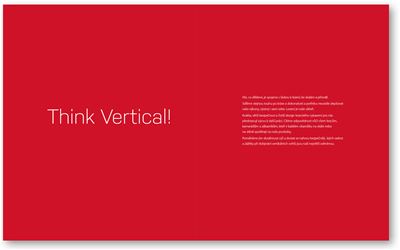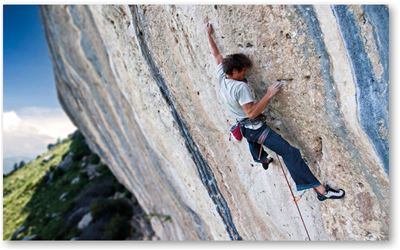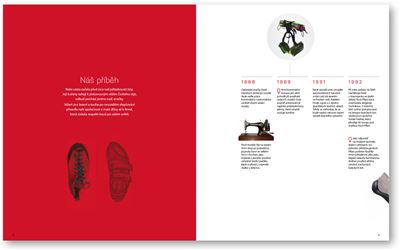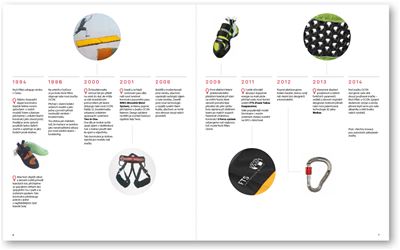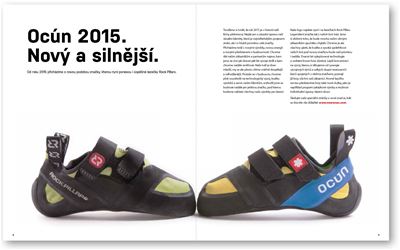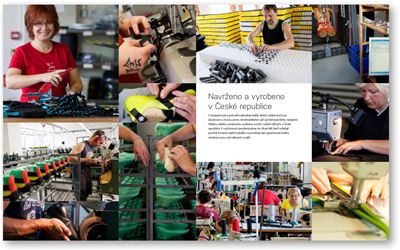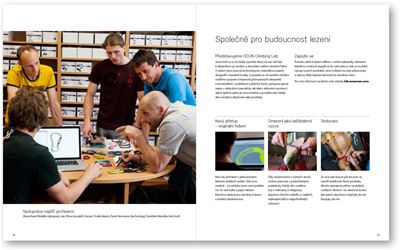 2nd part: presentation of products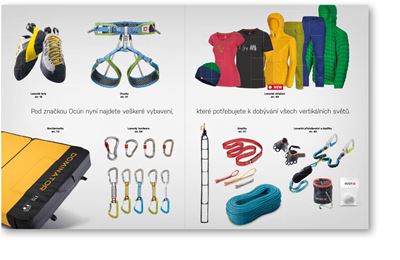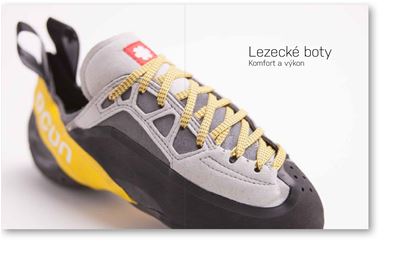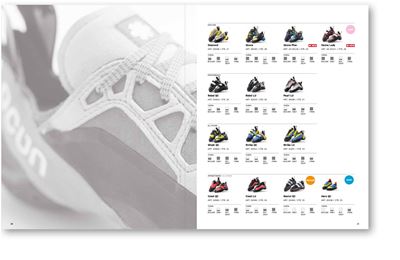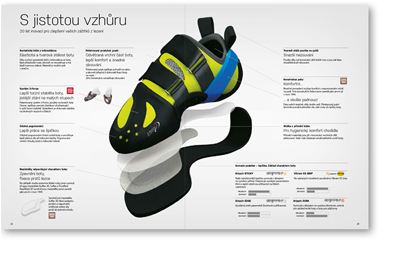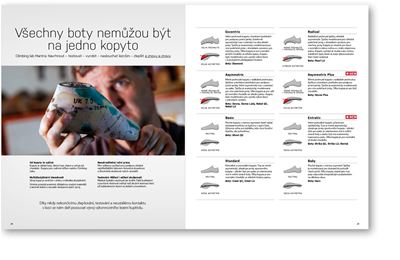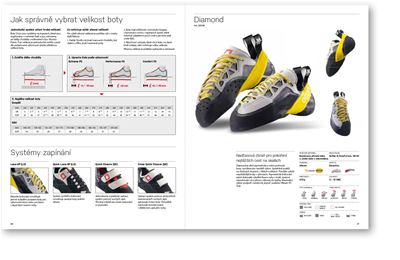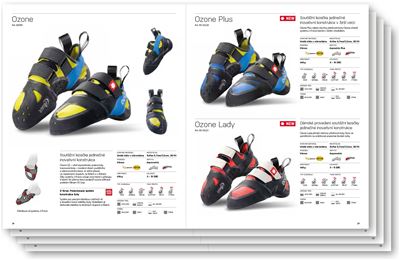 We used a similar structure for all product groups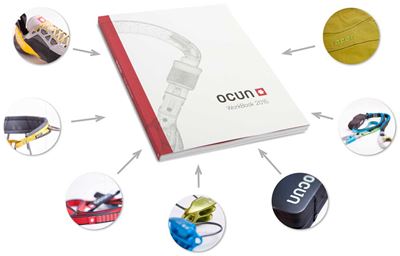 Skvělé celky se skládají ze skvělých detailů
Our contribution to design, content processing and argumentation of the workbook is best seen in comparison to the previous workbook. Below we present several examples illustrating our approach.
Showing by visual demonstration and explaining what they are looking on. Saying again WHY it is so compelling for them.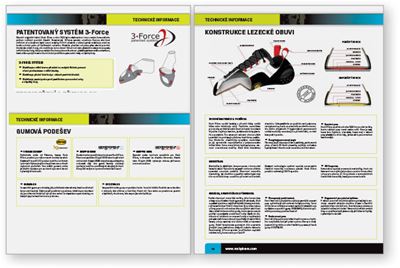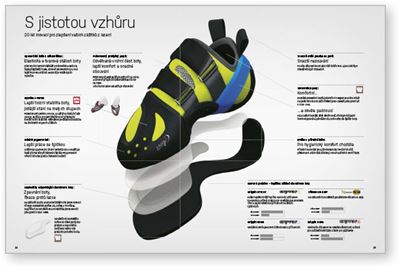 Related information is put together. Details are presented effectively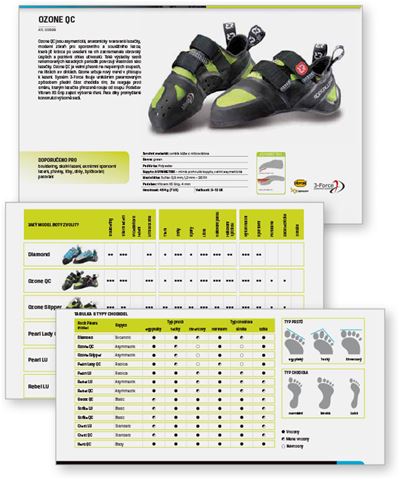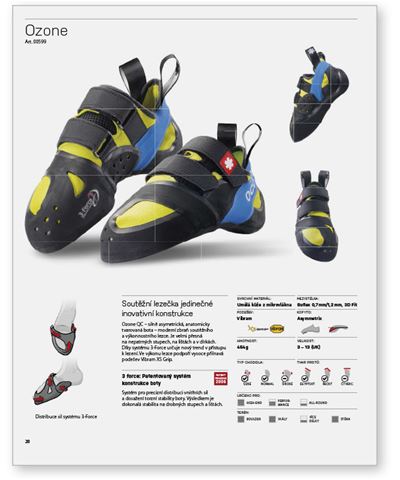 We present benefits and practical advantages. Avoiding technical jaw.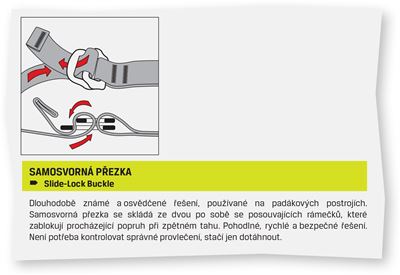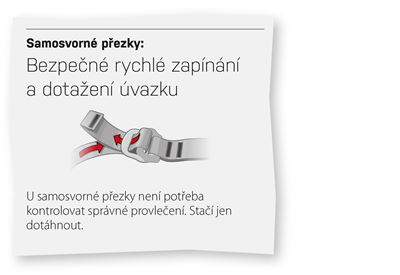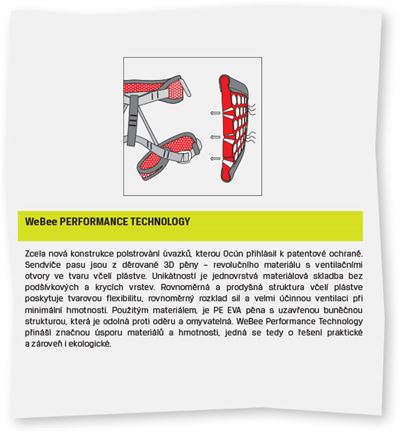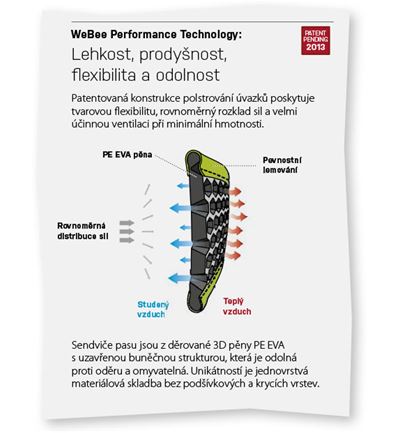 ... and we changed 20 other technological explanatory notes into arguments.
The company produces 16 types of shoes. They are quite similar visually. We formulate raison d'etre for each of them...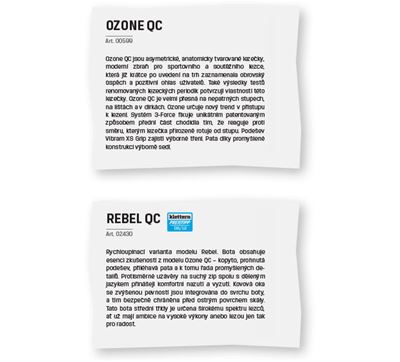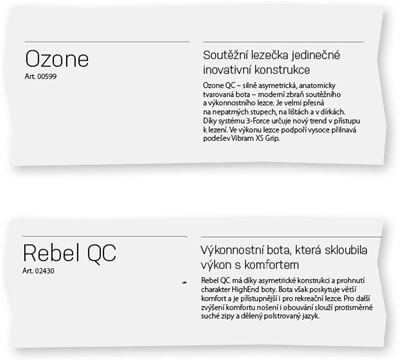 And similar it was with carabiners. Ocún produces 6 types times 2 to 4 variations. Let's explain why.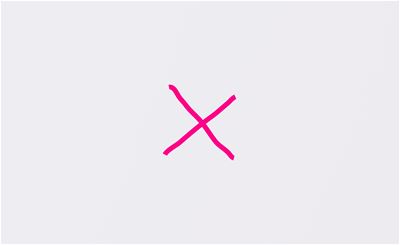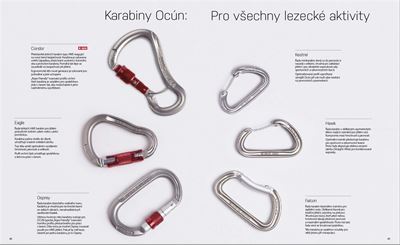 Crash pads: Reorganisation, restructuring, adding business critical information
There is about the same number of words but we present more facts in logical structure. New lay-out presents clearly material composition, construction and ways of wearing that are important for potential customer.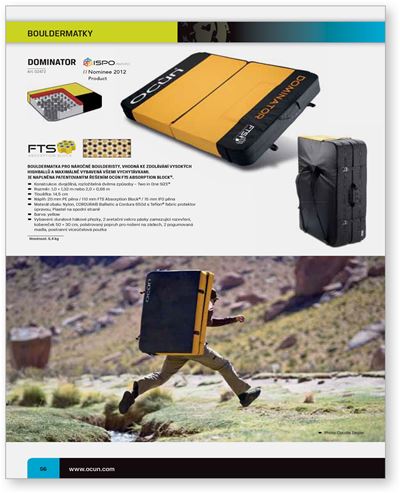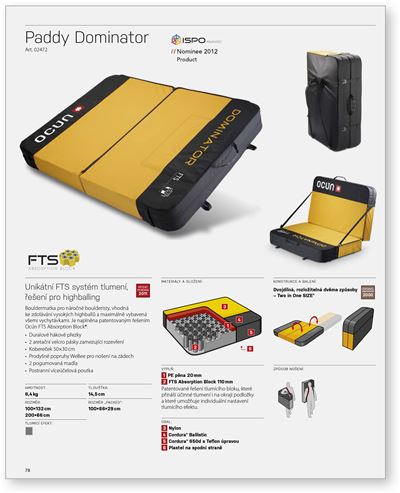 Ocún 2015. Nový a silnější.
Brands merging and answering the question how new Ocún will look like required communication via other channels.
To explain it to customers, business partners and for general communication on the website we created a video that clearly and intelligibly introduced the idea of "new and stronger" Ocún. All answers in 100 seconds.
What we have learned
It's about getting it in people's minds
Information, qualities and benefits are always present somewhere. Usually they are in minds of workers, salespersons and of companies' visionaries. People who make the products do not reflect that the others do not know what they do. It is important not to lose patience and always ask and rewrite. This project has examined all of our skills and abilities. From strategic thinking through copywriting, photoproduction to thoroughness and accuracy in time-strained workbook production.
There is no bad weather, only bad clothing
And the same it is with time you have on your project and its utilising. There is always the same amount of time, especially when deadline is defined by a particular event. What increases is only the number of documents from various sources and the number of tasks you need to manage to finish the project. Although we have methodologies and systems to handle both, sometimes it's still not enough. Then you need to get out of your own shadow quickly and to find the way the most effective team coordination and resource management. And if it helps the outcome, do it on go. Repeatedly.
Cooperation with AnFas was pleasant experience
Their empathetic approach and interest in our specific market segment brought good-quality and independent evaluation of our intention to merge the two brands. This collaboration has managed not only the communication of the fact of brands merge, but also to helped in finding principles for communicating the brand in its new form. By virtue of joint preparation and implementation of new communication style we went through the transformation of the brand very successfully. Today we can confirm that the dreaded process of brands merging ended with surprising boost. This project has provided us with many new experiences and established functional principles; we manage to continue in this direction ourselves.