Globalworx
How to sell the elusive
...and show your customers why they should want it
Globalworx is a German innovator of systems for monitoring the transport and storage conditions of sensitive goods, such as pharmaceutical, diagnostic and similar products. Building on a perfect knowledge of the daily needs and problems of manufacturers, carriers and target customers, the company has developed a unique solution that helps to overcome a number of critical points in transport monitoring. To succeed on the market, they needed only the "final detail": to convince customers of the benefits of this solution.
Attract those you need to address
When we met Globalworx, the brand seemed to already have everything it needed - the name, logo, a basic concept of visual identity and the website. But they did not yet have the confidence of the market. The smart and innovative solution offered by Globalworx went beyond what customers were used to – on the one hand, for large companies it was unexpectedly flexible, simple and cheap (and thus a bit suspicious), and on the other hand, medium-sized companies either did not use monitoring or used it only to a limited extent, and so they had no idea how much the Globalworx solution could make their job easier.
Globalworx thus needed to convincingly explain its approach and the benefits to the market. The existing way of communication did not help much to achieve this task. Although the website was appealing, with a number of moving components and catchy themes, the content was lacking. It was difficult for customers to find the key information: how Globalworx solutions can help improve their business.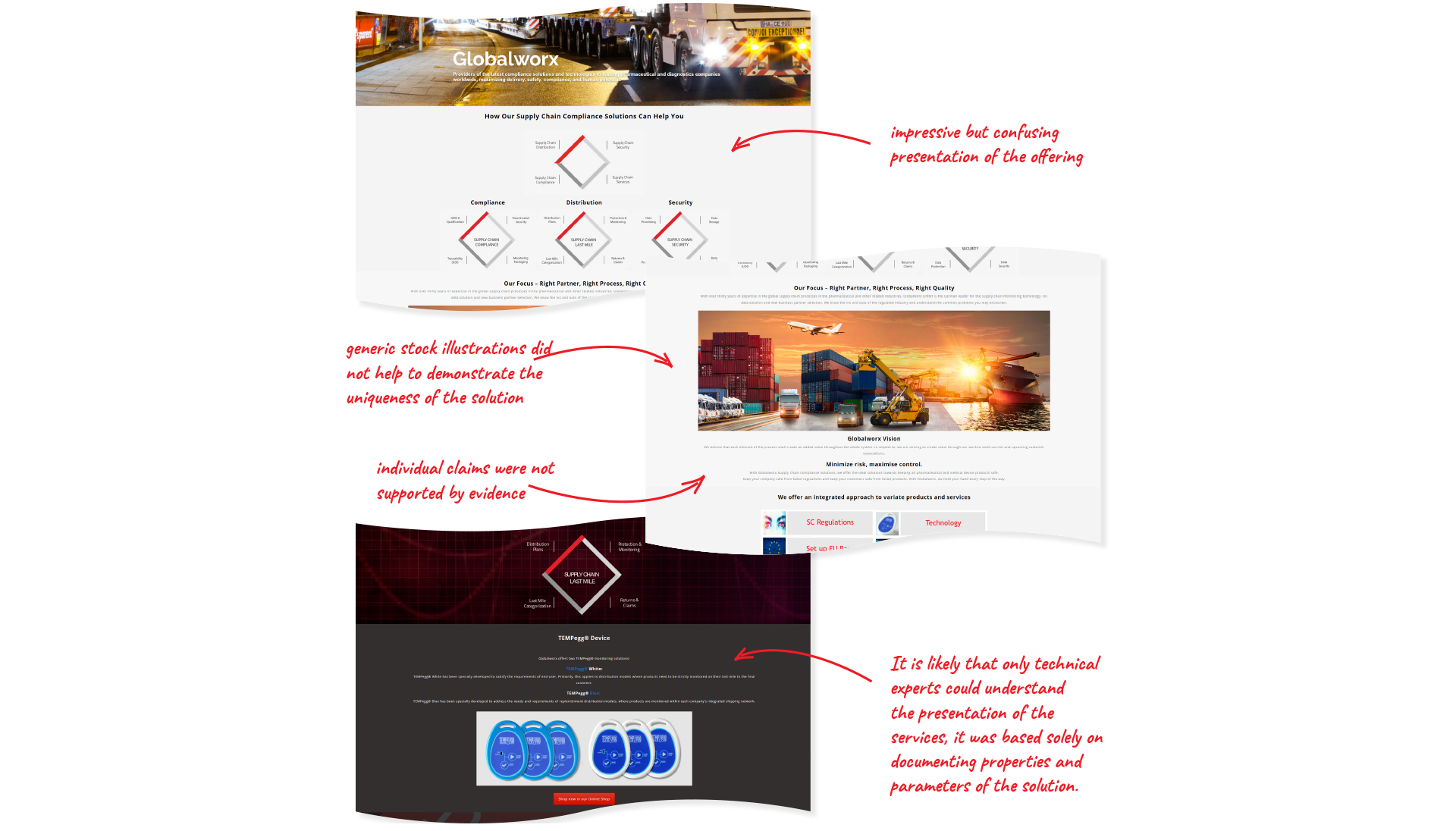 It is not rare that technology companies use in their presentations "technical lingo" and detailed descriptions of various features. This is the consequence of a misunderstanding about who is – or, rather, who should be – the target audience. What a technical specialist will appreciate may not work for a manager who has advanced, yet not expert level of knowledge. However, in most cases it is the manager who decides on the supplier of the technical solution. Therefore, the first step in our collaboration with Globalworx was to "translate" their communication into a language that the decision-makers could understand.
Based on several meetings with Globalworks and on our own research, we formed an idea about the market with products for medical goods monitoring and how the Globalworx solutions assist manufacturers, pharmacies or carriers. And we set out to work.
Structuring and pointing out what is really worth the attention
A key change in the approach is obvious. We made the design of the website simple and clean, so it does not distract, but instead to the maximum extent supports individual business arguments. We changed the overall structure of the website and visually differentiated the information according to its level of importance. As a result, the visitor sees at first glance what to pay attention to immediately and where to find detailed information in case of deeper interest.
We do not explain features, but rather sell the benefits.
The original website presented a number of details explaining what the Globalworx solution can do, including in-depth technical parameters of the products. However, it was difficult for the visitors to find a clear answer to the basic question: WHY is it good for them?
Such convincing business arguments were completely missing. Therefore we needed to add content – text, but also visual elements – that would explain the BENEFITS of the solution instead of its features.
Expressing business arguments and benefits is a specific discipline that requires detailed understanding of a product or service, thorough knowledge of market practices, and the ability to empathize with customers' thinking and needs. Since Globalworx launched an innovative product, we focused mainly on pointing out the weaknesses of existing solutions that customers have faced in everyday practice – such as the need to connect measuring devices via USB or to use a desktop-based software.

We change the focus of the presentation: it is less about US, and more about OUR CUSTOMERS
We also made sure that the copywriting did not slide into self-praise and to technical details. Instead of talking about us, we made sure that the web addressed the readers and engaged them in an imaginary dialogue, changing such phrases as "we do", "we offer", "we have the experience" to "gain", "improve", "help your customers with ...":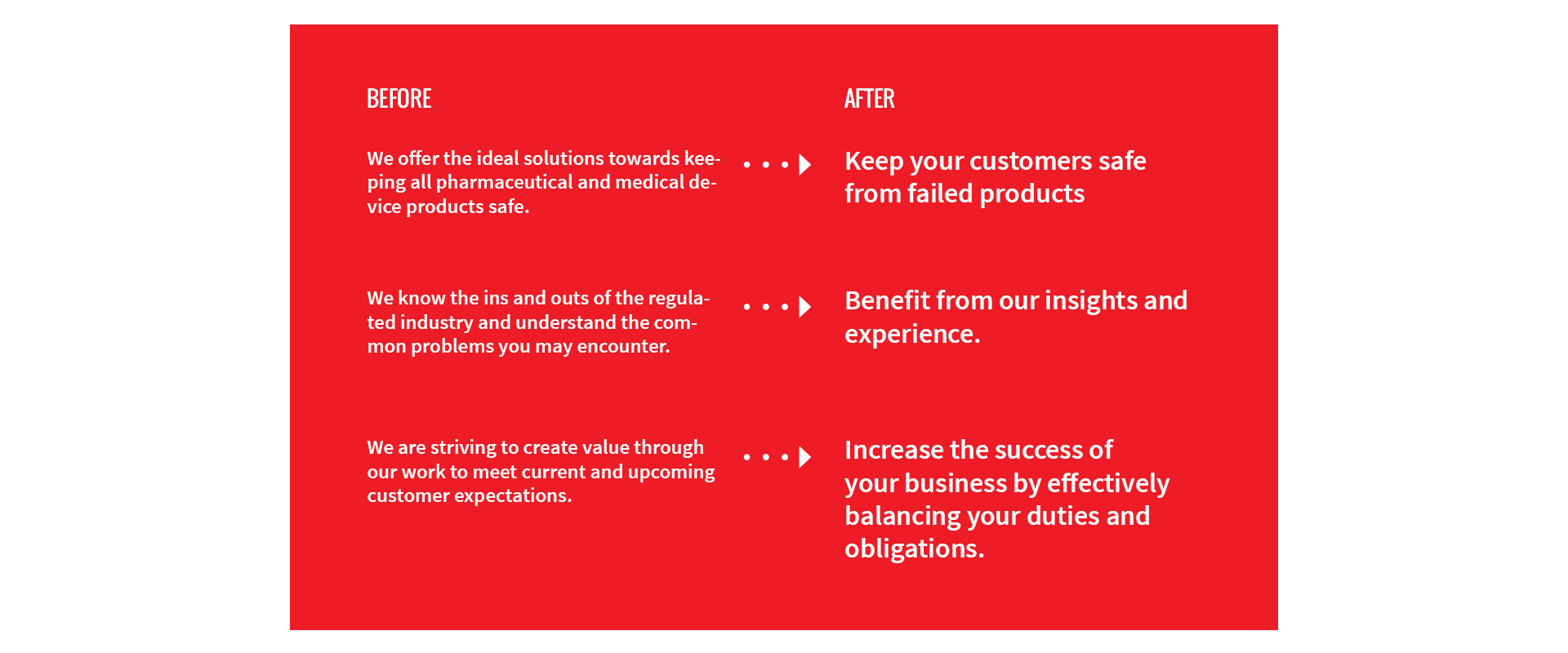 We do not describe, but show, using visual metaphors.
It is a proven rule that one well-chosen picture is worth a thousand words. That's why we created illustrations for each of the key products – monitoring during transport, monitoring of storage areas and an integrated monitoring system – that present Globalworx's comprehensive system in a nutshell. For each argument, we created original icons that improve the clarity and persuasiveness of the message.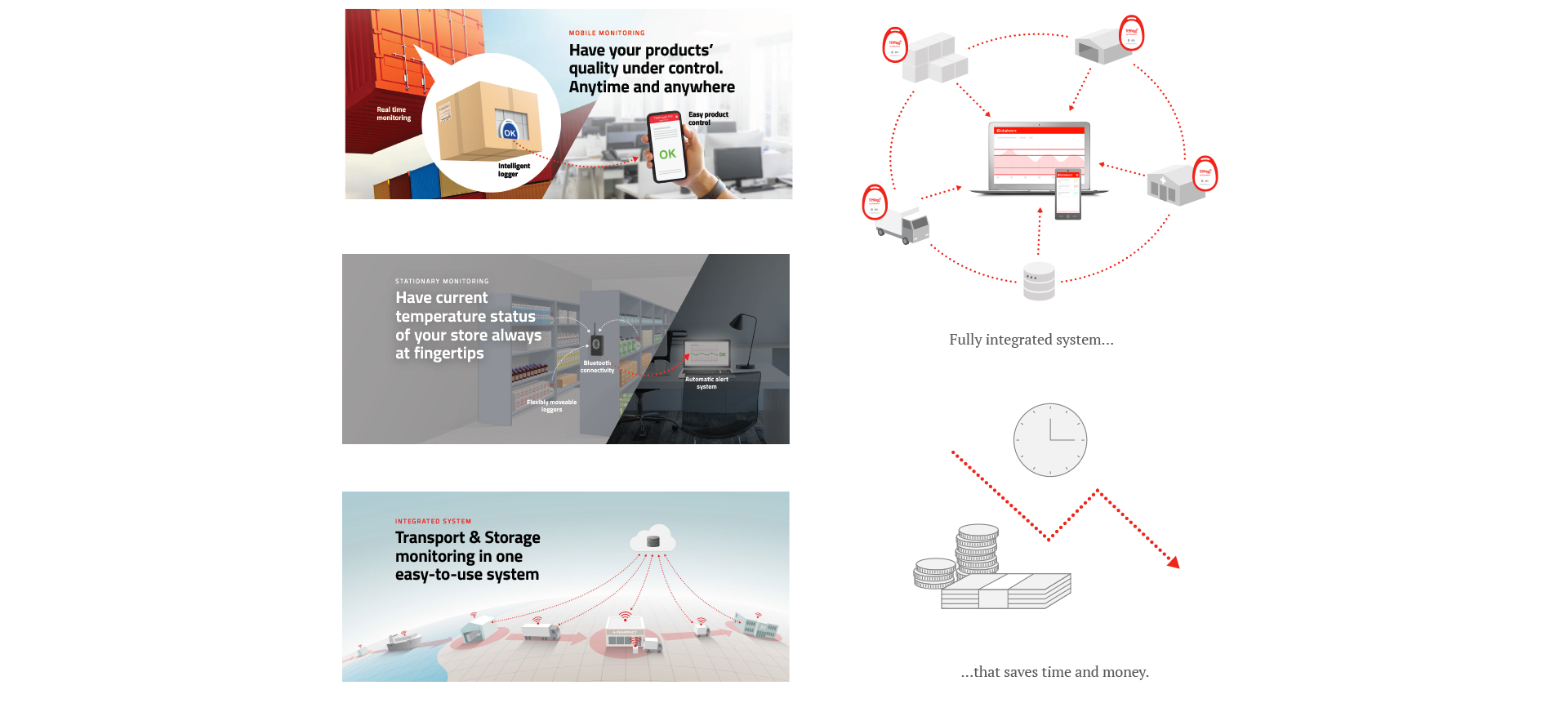 All that is essential about sensitive goods monitoring in 90 seconds
Eventually it came up that we cannot work only with words and pictures. To explain the uniqueness of the Globalworx system in a nutshell, we decided to produce a video. This was also the way to deliver the key message to people who prefer spoken language instead of reading a written text.
The script of the video had to meet a few requirements given to us by the customer:
keep the length to about 90 seconds,
explain why it is important to monitor sensitive goods,
show the advantage of Globalworx's solutions
and also be a little entertaining.
We ourselves added the aspiration that the whole video has a story or a unifying line, and does not simply look like an automatically launched PowerPoint presentation. Furthermore, a storyline would considerably assist viewers to remember the video content.
After a thorough debate, we chose the wedding bouquet. A wedding is an important moment in everyone's life, and the delivery of withered flowers is (at least for the bride) a serious thing and the results of poor transport conditions are instantly visible. Besides, we could turn a wedding day video into an entertaining story.

This kind of story allowed a personal touch and enriched the video by another layer – a clear, concretely presented benefit to the customer. Although Globalworx focuses on the transportation of pharmaceuticals and medical goods, the message is universal: thanks to Globalworx, end customers receive goods in the highest possible quality. And which manufacturer or carrier would not want to have customers as satisfied as a newly married couple with a dream wedding bouquet?
We initially worked out the concept of the video on a detailed storyboard. Because the whole video was animated, we needed to agree on its content and present it in simple sketches so that the animation itself was as effective as possible. At this stage, we made a number of partial changes, as we adjusted the specific sequence of scenes and the voiceover.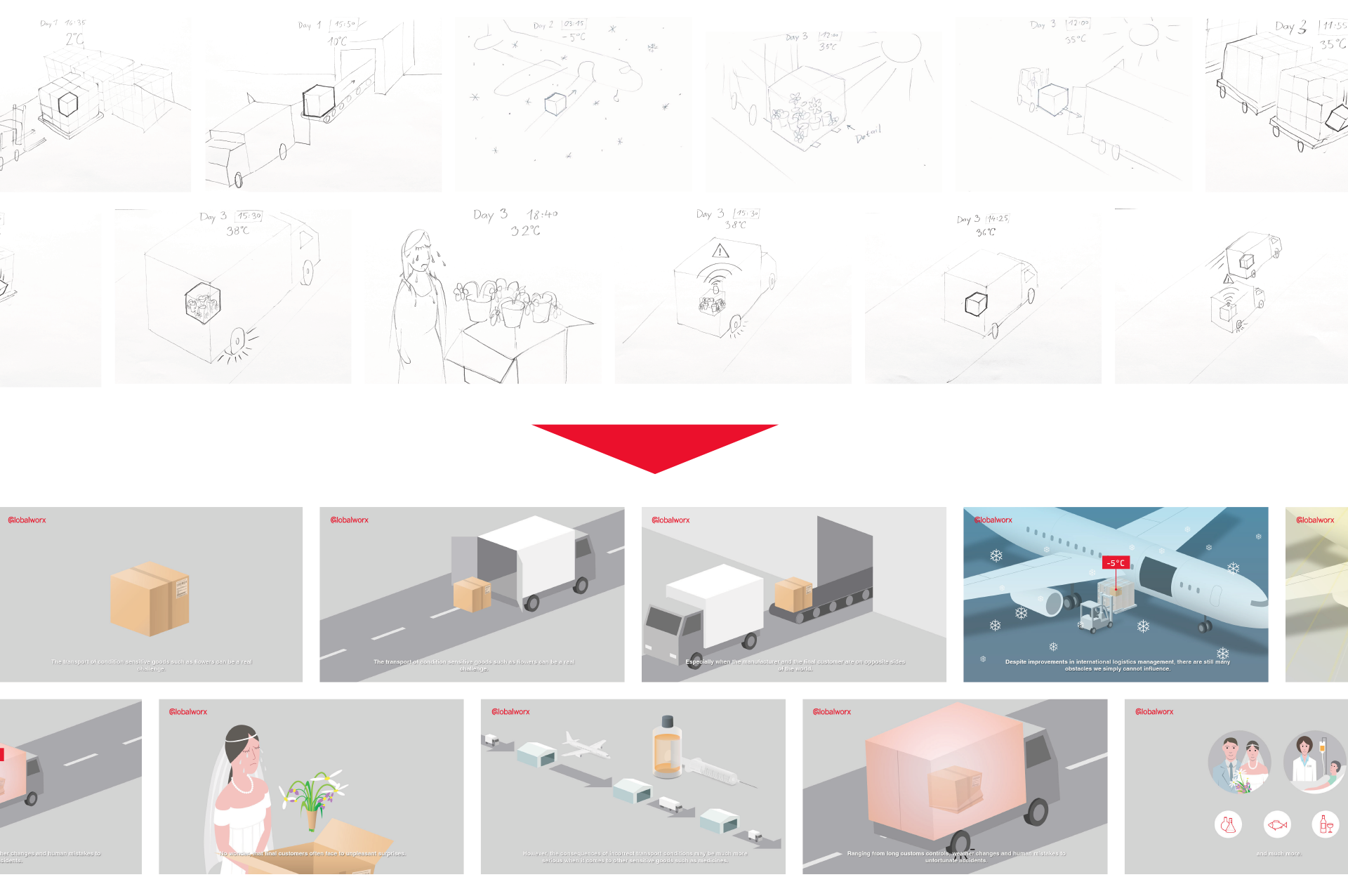 And this is the animated result:
As business grows, its presentation must also develop.
Globalworx is a prime example of the fact that creating corporate communication is a process. If communication is to be successful and effective, it must adapt to changes in the nature of the company and its offering. In other words: the content of the communication must evolve as dynamically as your brand does. Each of the steps that Globalworx went through has led to greater or lesser changes in business arguments, visual content and other communication materials. We are looking forward to whatever challenges we still may face in our journey together.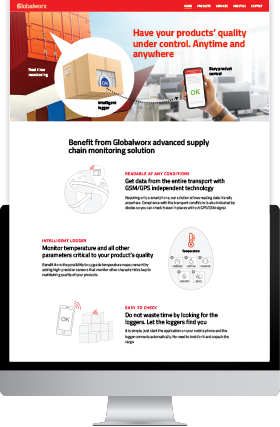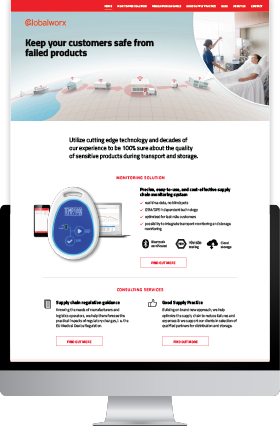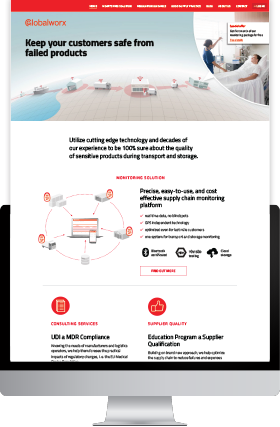 What we have learned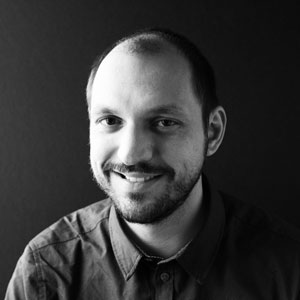 What customers say that they want in the first meeting may not be what they really need.
Our work for Globalworx consists largely of content creation. It is therefore interesting to note that the original order was to make a "nice design"of presentation materials for a conference. However, in an industry as complicated as monitoring of goods transportation, even a good-looking presentation does not work if it does not have compelling content, whether in the form of a website, a flyer or a video. In such a situation, it is up to you to convince the client that to strengthen their brand, what they want is not always what they need. Globalworx trusted our suggestions – and then it was a delight to work together.